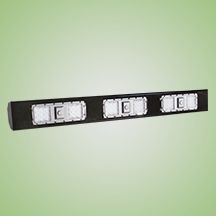 Downloads
Spec Sheet
Installation Instructions
Application
The LSLL Series LED Sign Lighter is designed illuminating architectural surfaces and commercial signage. Areas with limited accessibility due to fixture location or where heavy pedestrian or vehicle traffic makes maintenance difficult are ideal applications. The low profile design keeps the fixture placement discrete for both ground and wall mounted applications.
Construction
The heavy duty housing is constructed of extruded aluminum. The optical assemblies are sealed in place using a silicone gasket for weather tight protection. Modular LED bricks wired in parallel for ease of maintenance. ETL listed for wet locations (IP64). Additional IP66 rating available upon request.
Finish
A Super Durable Polyester powder coat finish is electrostatically applied in our state of the art paint facility. Standard colors available: Black, Bronze, US Green, White. Custom colors available upon request.
Optical System
Made with a state of the art UV stabilized acrylic high performance refractive optical assemblies that use high transmicity materials to achieve smooth, uniform assymetrical light patterns for illuminating signage.
Electrical System
Available in up to a 3 brick LED system in 5000K Cool White (+/- 500K) or 4100K Neutral White color temperatures propagated with Philips Lumileds LUXEON® Rebel LED's. Available with 90-300V 50/60 Hz Class II power supply. LED's rated up to 78,000 (B50 L70) hours for 850 mA operation and 103,000 (B50 L70) for 630 mA operation at 25°C ambient temperature. 480V input option available. Optional 0-10V dimming. Built-in surge protection up to 10 kV. Thermal protection is provided in the form of a dimming thermal foldback until fixture reverts back to the optimal operating temperature. Built-in Active PFC Function >95%/Full load. LED Power Supply conforms to UL1310 Class 2 and UL8750 standards and is IP67 rated for wet locations.
Mounting
Two ½" adjustable knuckles are provided to easily adjust and aim the fixture at the desired surface to illuminate. Each knuckle is designed to rotate over 180° to allow mounting with the fixture orientated above or below the intended target. Wall mount stand-off brackets (38") are available for wall mount applications. Mounting stakes and junction boxes are available for ground mounting applications.
Listings
LED Power Supply listed for wet locations (IP67). LED bricks ETL listed for wet locations (IP64). Meets US and Canadian safety standards. -40°C to 50°C ambient operation.